By Maj. Wayne Capps, 315th Airlift Wing Public Affairs / Published July 06, 2016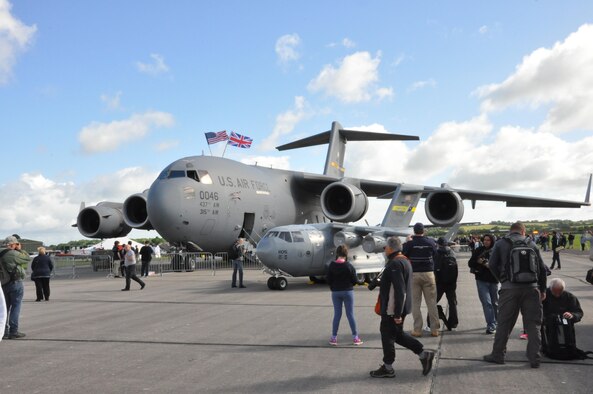 1 of 1
DOWNLOAD HI-RES /  PHOTO DETAILS
A C-17 Globemaster III from Joint Base Charleston, S.C., and the 315th Airlift Wing's mini C-17 were popular attractions at the Yeovilton Air Day 2016 at Royal Naval Air Station Yeovilton, England, on July 2, 2016. Nearly 40,000 people crowded into the small British Navy base in order to get peek at aircraft from all over the world. Reservists from the 315th AW participated in the annual air show and they were also awarded the show's top prize, the best static display award. (U.S. Air Force photo/Maj. Wayne Capps)
ROYAL NAVAL AIR STATION YEOVILTON, England (AFNS) — As jets thundered overhead, nearly 40,000 people crowded into the small Royal Navy station here in order to get a peek at aircraft from all over the world, including a C-17 Globmaster III from Joint Base Charleston, South Carolina.
Reservists from the 315th Airlift Wing, participated in the annual Yeovilton Air Day on July 2, and they were also awarded the show's top prize, the best static display award.
"It felt good to be recognized by the British," said Maj. Ed Sutton, the chief of tactics with the 315th Operations Support Squadron. "They were amazing and fantastic hosts who just wanted to see what we do."Proving to be the most popular display at the show; for most of the day, the wait time to get a tour of the C-17 flight deck at times was almost two hours. "We didn't mind waiting," said Donna Speckie, one of the air show attendees. "The C-17 is just massive and we don't normally get to see these here in the U.K."
For Capt. Mike Murphy, a traditional Reserve pilot with the 701st Airlift Squadron attending air shows is a common occurrence.
"I attend many aviation related events worldwide, but coming as a C-17 crewmember is all about diplomacy," he said. "Several thousand people walked through our jet and the image that is imprinted in their minds is both of the magnitude of the C-17 and the crewmembers present. That image is invaluable." he said.
For the C-17 crewmembers, there were multiple reasons for displaying their massive aircraft at the show. "For us, training is always important and that's the real reason we were here," Sutton said. "We were able to fly overseas sorties with a complicated load with over 16,000 pounds of shoring and some rolling stock vehicles."