Serving Those Who Served
Home Purchase • Refinance • Home Equity • Debt Consolidation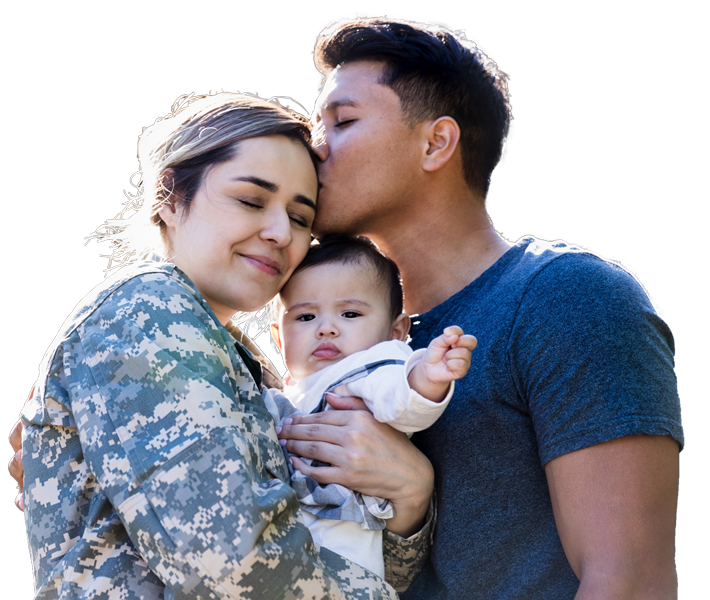 We are in this together!
Until further notice, GI Home Loans will pay for the Appraisal and Credit Report Fees for anyone funding a purchase loan with us.
Zero Down Payment
Choose from three "Zero Down Payment" Mortgages for California Residents.
California Union Promotion
We will pay for Appraisal and Credit Report Fees for any Active Union Members
We pride ourselves in delivering great service.
Every time I call or email Derrick responds quickly. He uses his knowledge in the mortgage industry to structure the best loan that meets your personal needs. He makes the process of getting a loan smooth and easy. Thank you.
If there was anyone who can do the impossible, it is Derrick Evans with GI Home Loans. I recently sold my townhouse. It couldn't go any smoother. We had buyers with impossible credit, but with some real analysis of their situation. Derrick helped the buyers clean up their credit and ending up with a more than acceptable lending situation for the lender. It was a win-win situation for everyone. I would highly recommend Derrick Evans to help you find and buy a home. He really is the best knowing what to do. He's a very honest, genuine person. I've had business dealings in the past 10 years with him. You could not find a better advocate for your buying process. Only the best will do. Sincerly, H. Austin
I'm a Disabled Veteran with a little financial problems and poor credit score. Many banks offered me a refinance of my existing mortgage. I applied to over 100 banks for a loan and they all told me no. So I called Derrick Evan's a GI Home loans and he informed me that he can get it done. And he absolutely delivered. Many thanks to you Derrick and GI home loans.
I have known Derrick for over 10 years, we have worked on several real estate purchase transactions over the years and I can honestly say this guy knows his stuff. If you want an honest, hard working and knowledgeable Loan Officer that truly will go the distance for you, then give Derrick a call. He is an expert VA Loan professional, where others would have thrown the towel at the first sign of difficulty, Derrick doubled down and dug deep to come up with solutions that most Loan Officers would be hard pressed to consider. A true professional in every sense of the word, he cares about his fellow Veterans. It has been a great honor and pleasure working with Derrick over the years and I look forward to continue our friendship and professional relationship for a long time.
Thank you Derrick for all your support walking us through the process and made our time/life a smooth experience!!!!! Always, Team Lugg
Our experience with GI Home Loans was very professional and accommodating to our needs. Our loan officer, Derrick Evans was in constant contact with us and guiding us throughout the entire process. Any questions we had, he had answers with a rapid response period. He's very professional and knowledgeable of what is needed to benefit us as customers and potential clients.
Derrick is on the ball, makes sure things are moving forwards, and gets the job done. Communication is key and he definitely understands that. I recommend a lot of people to Derrick, and know he will do everything he can to get people a loan.
I want to make sure that if anyone is interested in getting a home that you want to buy this is the guy to go to. He did AN AWESOME JOB for us to have us get a home we wouldn't of never gotten any other way. SGT Derrick Evans was awesome. He did what he had to make sure that we had everything we needed to keep moving on. Granted it was a lot of paperwork but then again what isn't. Lol When we were getting flustered he talked to use to make sure that we were getting things done so that we were able to focus on the outcome of what we will be getting was the house that were wanting to make things happen in our future. We just purchased a 11 bedroom home with 5 bath. We are planning to make these rooms fill up with doing Foster care and also take care of adults with special needs in our home for Respite care. It will be awesome. Thanks so much for all that you helped out with SGT Derrick Evans. We appreciate everything that you have done. If I could have given him a 10 star he would have received that from us.
Derrick was the loan officer on a sale escrow we handled here at Inter Valley Escrow Glendale. He was great to work with, his professionalism helped to make us all look good and made our job easier. We hope to have the opportunity to work with him again soon!
Thank you Coral so much for helping my parents dreams come true!!!
Coral made the impossible possible!! Thank you for experience and knowledge!!
This place is amazing! I worked with Derrick Evans when I bought my first house. He made the process extremely easy. Even my friends and family wondered why it was so easy! We had 60 days to be out of our last house and Derrick promised we'd be in our new house before then and we were! Thank you for making this super easy!!!!
Thank you so very much for all of your help in securing our loan for our new home. Coral was prompt, professional, and courteous. She was patient and thorough answering all of my questions. She kept the ball rolling and the process was completed in the time frame promised. There were absolutely no surprises at settlement. An excellent job!
It was too easy to work with Derrick. He was always available to answer my questions... 100% recommend to work with him!
Easy refi done quickly. Sgt Evans is great!
Just wanted to thank GI home loans with exceptional support and outstanding professional services . Thank you very much Coral Himal.
It was a Great pleasure having GI Home Loans on our side. As a Veteran, I thank you guys, especially Sgt. Evans who had my back through the whole process and when I had my doubts he assured me not to give up having your own house. Thank you Sgt. Evans and your continued help to our veterans and God Bless.
It was a pleasure to work with "Coral" at GI Home Loans. I received great service and results. I definitely recommend going with Coral at GI Home Loans.
Sgt. Evans was a pleasure to work with. He was transparent about the process and about how much he made. He had nothing to hide. Everything was in the closing disclosures you will receive when you do a loan with him so you won't feel as if you are getting ripped off. I was in the process with another company and made the switch because his company was more competitive. Derrick Evans has outstanding customer service skills and will get the job done as quickly as you send him your required documents. He will communicate with you every step of the way. I was able to combine my first and HELOC and still got a little lower rate. Considering the HELOC, or second mortgage is typically higher. I would give Sgt. Evans my highest recommendation to do business with and would refer him to friends and family. So what are you waiting for? Let him earn your business.
Got a great low rate refi. Process was simple and fast. Closed in less than 3 weeks. Highly recommend Sgt Evans!
This is a top notch company with a top notch staff. Thank you so very much for all of your help in refinancing our loan. Coral was prompt, professional, and courteous. She is easy to talk to and listens to your concerns which made this the best experience EVER. I would definitely recommend this company and their staff for your home loans.
Excellent service and follow up. Since I started the process with Ms. Coral Malan it was smooth. She answered all of my calls and was available to guide me through the process and lower my anxiety knowing that someone knowledgeable like her would be providing advice and support. I would recommend GI Home Loans to my friends. Thank you so much.
I was truly satisfied with the service that Coral extended for me and my family she was very positive and motivated to complete our service for our home in a timely manner. In the future I would highly recommend Coral and GI Home loans to all of my family and friends as well as for myself of repeat home loans services. Thank you Coral and team GI Home loans keep up the great work and service.
This was the best experience I have had with a broker, they were on top of everything throughout the entire process. When there were any issues with the lender a path to the solution was clearly laid out. We were able to get the lowest rate with no points and zero out of pocket due to their diligence in giving us the best deal possible. I would highly recommend GI Home Loans and have permanently saved their phone number in my contacts as my go to mortgage solution.
I just wanted to shine light on the services that I received. Definitely a top tier company that is all about helping military members and not to mention veterans get the lowest rates on properties. Loan officer Coral was with me every step of the way when it came to my refinance. Any questions I had she answered and was very knowledgeable about different subject matters. I highly recommend Coral as she takes her job serious and doesn't stop until she's solved all issues. Thanks Coral !!!
Thank you Coral for helping us finance our home! You've been a blessing 😀 I highly recommend Coral she is very knowledgeable and very patient When it came to answering any question we had about our refinance. G I home loans, I bet is an honor to have one of the best, if not the best loan officer in county! Thank you once again, I will highly recommend you to anyone I come across to. 😀 God Bless!
Awesome service. Derrick and Aaron provide top notch service. Wasn't sure if I was going to be able to refi my house, but Derrick walked my wife and I through the process. Aaron also made sure we had all of our documents needed and was in contact with us through the process. Will recommend them to fellow Vets and family. Thank you!
Mike was so in tune with my real estate needs that he knew why I was nervous about closing on time and reassured me that he could help me close on time. Mike got me a great loan that closed within days. My sister referred me to them after she did her mortgage with them earlier in the year. I highly recommend their services to anyone.
Selling and/or buying a home is hectic, stressful and time-consuming, not to mention the hassles of moving. I am a single mom with two (2) children and a full time job. I was having quite a difficult time juggling the many steps and activities of trying to sell my home while trying to find a larger home that would meet my families' needs and expectations. I then found GI Home Loans through a friend. The real estate and the mortgage portions of their business are located together under one roof so that your paperwork and questions can be taken care of at one time without having to run all over town, send faxes back and forth, etc. They have wonderful mortgage plans that work and that have allowed me to finally buy the home of my dreams .GI Home Loans is a family owned business, and your business is their success. The team there is enthusiastic, professional, knowledgeable, and friendly.
Our purchase, sale, and financing experience with the GI Home Loans was great. They were there at every step of the way to guide us through the process. Having everything in one place greatly simplified the process. I would certainly recommend GI Home Loans to my friends and relatives.
Well….let me just say that I am still reeling from the news. ? I am so impressed by how in tune you are with your clients' needs–the fact that you brought the perfect buyer for our home (and so quickly!) is a true testament to how successful GI Home Loans. Please accept my sincerest thanks for your assistance with the sale. I am so glad that I took Tom's advice and gave you and Chad a call—I am thrilled with the results and truly impressed!
You took all the guess work out of purchasing, refinancing or selling a home. I know because I have done each with them. They explain the process in detail and work efficiently with integrity. We not only have become "clients for life" but we've also made friends for life. They're the best!!!
Four months prior to calling your company, I tried other lenders that indicated to me that they would have no problem in completing a 100% loan given my credit situation. In each case, after wasting time and requiring more and more information with each new phone call, no other broken was able to complete the loan. In your case, I brought the financial information to my face-to-face, you had me wait in your media room for about 30 minutes, and within that time you had a full 100% loan approval, not just a conditional approval. Without your company, I would not be in my new home today.
As a small business owner it is difficult to obtain suitable financing. GI Home Loans suggested putting the loan in my wife's name. This suggestion allowed us to obtain 100% financing on our new home. They not only completed the loan for me, but did it with a smile. I would recommend them to any friend or family member This was definitely the best mortgage experience I've had.
About Us
G.I. Home Loans, Inc. is your Internet resource center for VA Home Loans. We are committed to "serving those who served" by offering the most comprehensive and dedicated service possible to the men and women of our Armed Forces who are in need of assistance with the purchase or refinance of their home. The majority of our employees have served their country with pride and distinction; most have worn the uniform of the United States Military.
The rich tradition of professionalism, integrity, duty and honor that is a fundamental part of our proud military heritage is incorporated into the work ethic of G.I. Home Loans. We endeavor to treat our clients with the same degree of dedication and selflessness that would be expected in the field of combat.
It is our mission to educate the Service Member or Veteran about the benefits afforded to them by the United States Government through the Veterans Administration in the form of a guaranteed VA Home Loan. We strive to provide the Service Member or Veteran with the best program and lowest interest rate and closing costs possible. At all times, we will put the needs of our clients ahead of the needs of our company.
The tradition of excellence continues.