By Cheryl Pellerin DoD News, Defense Media Activity
PRINT  |  E-MAIL  |  CONTACT AUTHOR
WASHINGTON, March 23, 2017 — Senior defense officials detailed before a House panel today Defense Department programs for countering traditional weapons of mass destruction and its plans for countering a new threat posed by the adversarial use of synthetic biology tools.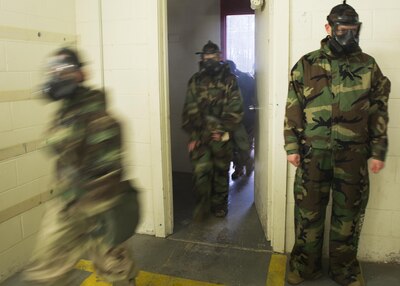 Dr. Arthur T. Hopkins, acting assistant secretary for nuclear, chemical and biological defense programs, testified this afternoon before the House Armed Services Subcommittee on Emerging Threats and Capabilities.
Joining him were Peter Verga, performing the duties of the assistant secretary of defense for homeland defense and global security; and Shari Durand, acting director of the Defense Threat Reduction Agency.
Traditional WMD include chemical, biological, radiological and nuclear weapons.
One emerging threat discussed today was synthetic biology, defined as using sophisticated techniques and tools to sequence, synthesize and manipulate genetic material.
To date, according to the Defense Advanced Research Projects Agency, which funds research in this area, work in synthetic biology has focused mainly on manipulating individual species of domesticated organisms to perform specific tasks like producing medicines or fuels.
Expanding Responsibilities
On the traditional side of countering WMD, Hopkins said the Office of the Assistant Secretary for Nuclear, Chemical and Biological Defense Programs has roots that go back to DoD's establishment, when the office focused on nuclear deterrence.
"Since then," he added, "the organization's responsibilities have expanded."
The Nuclear Matters Office handles DoD activities for sustaining a safe, secure and effective nuclear deterrent. The Chemical and Biological Defense Program develops capabilities that help warfighters deter, prevent, protect, mitigate, respond to and recover from WMD threats.
The Threat Reduction and Arms Control Office oversees the U.S. chemical demilitarization program, which focuses on destroying the nation's remaining chemical weapons stockpile and ensuring the department's compliance with nuclear, chemical and biological treaties and agreements.
The Countering Weapons of Mass Destruction Systems Program strengthens awareness of global WMD activities, and the Defense Threat Reduction Agency, or DTRA, addresses the full spectrum of WMD-related threats, including cooperative threat reduction programs, support to combatant commands and threats from improvised explosive devices of all kinds.
North Korea, ISIS
In his comments, Verga said that two CBRN-related threats over the past year have dominated the headlines — those posed by North Korea and the Islamic State of Iraq and Syria.
North Korea has increased its CBRN-related activities and continues to test nuclear weapons and ballistic missiles. ISIS, a nonstate actor not bound by longstanding laws, shows a willingness to use chemical weapons against civilians and combatants, Verga added.
"The department's strategic approach to countering these threats focuses on three lines of effort," he said, "preventing acquisition of WMD, containing and reducing threats, and mitigating the consequences of potential use."
DoD also engages with partners through its Cooperative Threat Reduction Program, implemented through DTRA, which works with partners to mitigate CBRN-related threats.
CTR is engaged in more than 30 countries, helping them detect, secure or eliminate CBRN-related materials and pathogens of security concern, Verga said. The program also is strengthening Jordan's and Lebanon's capacity to prevent proliferation of CBRN materials from Iraq and Syria into their territories, he added.
Elsewhere, Verga said, "DoD is working with our key regional allies, [South] Korea and Japan, to ensure that our focus remains postured to respond to CBRN contingencies emanating from the Korean Peninsula."
Synthetic Biology
Hopkins said that to counter emerging threats like those enabled by synthetic biology and nontraditional agents, the Chemical and Biological Defense Program is developing new strategies to anticipate, prepare and more rapidly respond, especially in the area of medical countermeasures in addition to developing protective equipment and detection systems.
Medical countermeasures include Food and Drug Administration-approved vaccines, therapeutics and diagnostics designed to protect U.S. forces against chemical and biological threats.
"The same tools of synthetic biology that we're concerned about as being capable of being used against us, we are also using in the laboratories to help develop countermeasures," Hopkins said, "so our ability to come up with vaccines, therapeutics and even laboratory equipment that will help identify the threat are very important to us."
He added that one of the department's challenges is looking at potential effects on national security.
"We want to make sure that the things that we do to protect ourselves don't interfere with … [applying] the technology for peaceful, useful purposes, Hopkins said.
Developing Capabilities
The department has asked the National Academy of Sciences to produce an interagency study of potential impacts on national security, when potential threats might arise and what DoD can do about it, he said.
The department's response would fall into at least three areas, Hopkins said — detection, protection and mitigation.
"We're working very hard on detection technologies to understand when and if we may be subject to those kinds of attacks … [and] we have to make sure that our science base is up to the task of actually developing capabilities to protect the warfighter," he added.
In Durand's remarks to the panel about DTRA, she said, "In the chem-bio world for science and technology one of our top priorities is finding an integrated early-warning system. … Finding what is out there and knowing it's coming is critical."
Hopkins said that for traditional agents and threats — mustard, nerve agents and other chemicals — he believes that DoD investments over the decades in masks, suits, gloves and individual and collective protection have provided "an adequate degree of readiness."
In the area of emerging threats, he added, "emerging infectious diseases, synthetic biology and engineered diseases — I don't think we know how good we are or how bad we are. That's an area where we are focusing and we have to continue to focus."
Follow Cheryl Pellerin on Twitter: @PellerinDoDNews