By Maj. Jon Quinlan, 507th Air Refueling Wing Public Affairs / Published March 28, 2016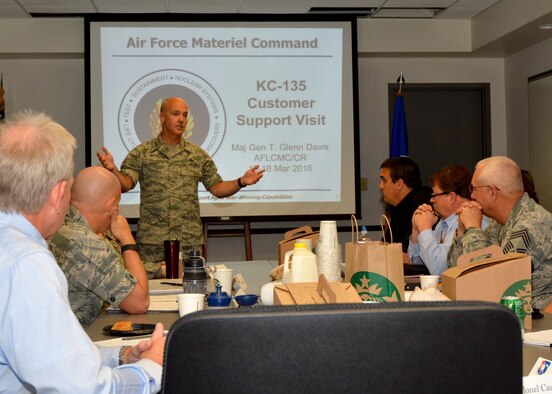 1 of 1
DOWNLOAD HI-RES /  PHOTO DETAILS
Maj. Gen. Glenn Davis, the mobilization assistant to the Air Force Life Cycle Management Center commander, gives opening remarks during a KC-135 Stratotanker customer support visit to the 507th Air Refueling Wing at Tinker Air Force Base, Okla. The group visited Tinker AFB and also Birmingham Air National Guard Base, Alabama, and Grissom Air Reserve Base, Indiana, from March 14-18 to enhance KC-135 customer service between all the agencies. (U.S. Air Force Photo/Maj. Jon Quinlan)
TINKER AIR FORCE BASE, Okla. (AFNS) — Experts from the Air Force Life Cycle Management Center, the Air Force Reserve, National Guard Bureau and the Legacy Tanker Division conducted a customer support visit here and at two other bases March 14-18 to listen to unit concerns regarding KC-135 Stratotanker support and logistics.
The team, headed by Maj. Gen. Glenn Davis, the mobilization assistant to the AFLCMC commander, also traveled to Birmingham Air National Guard Base, Alabama, and Grissom Air Reserve Base, Indiana, with airlift provided by the 507th Air Refueling Wing here.
According to William R. Barnes, the deputy chief of the Legacy Tanker Division here, the purpose of the visit was simple.
"We want to enhance aircraft availability," Barnes said. "It's all about getting more iron on the ramp."
The team of nearly 30 logistics, maintenance, acquisitions and engineering experts discussed topics including supply rate times, sustaining engineering, product support management and part transportation.
According to Davis, the open and frank discussions were beneficial as there sometimes can be a disconnect between metrics viewed at major commands versus what's going on at the ground level in operational units.
"Our goal is to get out to the units, to hear what needs to be heard and then do something about it," Davis said. "These visits allow us the luxury of interacting directly with the units because the Airmen in the units are going to have really good ideas."
During the Tinker AFB visit, members of the 507th Maintenance Group identified specific maintenance issues to discuss and provided hands-on tours of various back shops, as well as tours of the jets. Having the subject-matter experts on the ground allowed for real-time discussions and solutions to be implemented immediately.
Visiting the base in person, Davis said, proved to be more productive than a teleconference.
"It was great to have the face-to-face interaction so I could put a face with a name," he said. "It helped us to get a better understanding of the concerns of maintenance professionals at the units."
Other agencies involved in the visits included the Defense Logistics Agency, Air Force Sustainment Center, Oklahoma City Air Logistics Complex and Air Mobility Command.
The Reserve 507th Maintenance Group commander, Col. Travis Caughlin, said that the partnerships built during these visits are very important to KC-135 operations and the unit is always happy to assist.
The partnerships and plans built by these visits will ensure that the nearly 60-year-old KC-135 is flying well beyond 2030, Barnes said.