By Staff Sgt. Nicolas Carzis, 146th Airlift Wing Public Affairs / Published May 06, 2016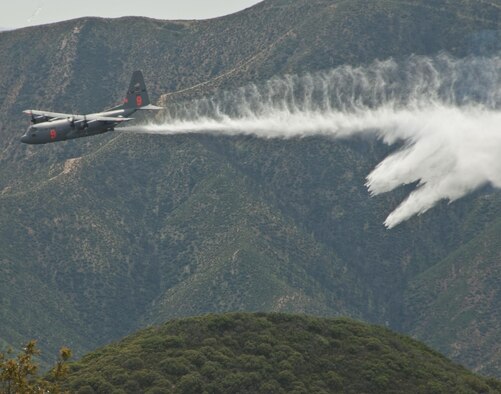 1 of 2
DOWNLOAD HI-RES /  PHOTO DETAILS
A line of water is dropped high above Angeles National Forest in Southern California from an Air National Guard C-130 Hercules on May 3, 2016, during a training mission. The C-130 was equipped with the Modular Airborne Firefighting System, used to combat wildfires. (U.S. Air National Guard photo/Staff Sgt. Nicholas Carzis)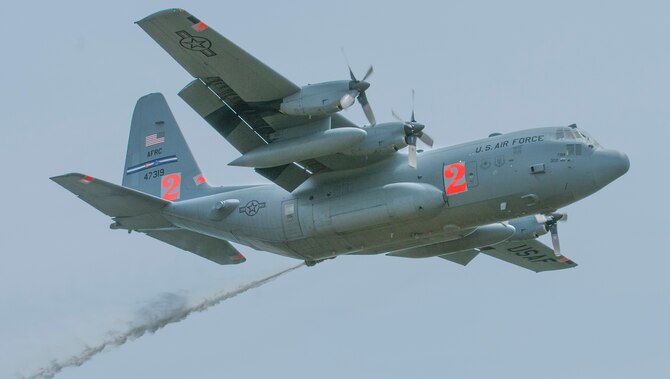 2 of 2
DOWNLOAD HI-RES /  PHOTO DETAILS
A 302nd Airlift Wing C-130 Hercules performs water-drop training in Southern California on May 3, 2016. The training was conducted at Channel Islands Air National Guard Station, Calif., for the mission's annual certification. Since 1974, the Modular Airborne Fire Fighting System, a fire retardant delivery system inserted into a C-130, has been a joint effort including the U.S. Forest Service and the Defense Department to fight wildland fires. (Courtesy photo)
CHANNEL ISLANDS AIR NATIONAL GUARD STATION, Calif. (AFNS) — More than 400 Air National Guard and Air Force Reserve Airmen from across the country gathered May 2-6 to be certified on the Modular Airborne Fire Fighting System in preparation for the 2016 wildland fire season.
Airmen from four ANG wings, along with the Reserve's 302nd Airlift Wing, took part in classroom-based briefings and training, as well as C-130 flying operations. Military flight instructors trained alongside U.S. Forest Service aircrew flying in mountainous terrain over simulated fire lines, while ground crewmembers honed their skills servicing the aircraft and reloading the MAFFS units at the tanker base located at Channel Islands Air National Guard Station. Military and civilian agencies synchronized and coordinated during the training in order to ensure fluid processes during firefighting operations.
Col. Scott Sanders, the MAFFS Air Expeditionary Group commander, said the training went well for aircrews this year."MAFFS is an interagency partnership. We train as we fight — together. It is far and away one of our most satisfying missions," said Sanders, who is assigned to the Wyoming ANG's 153rd AW. "One of the reasons we enjoy flying it is to see the immediate results of our efforts."
Throughout certification week, 80 C-130 Hercules aircrews flew approximately 200 training sorties, performing targeted water drops in the mountains of Southern California's Angeles National Forest. An estimated 1.5 million gallons of water was estimated to have been dropped.
Kim Christensen, the National Interagency Fire Center deputy assistant director of operations for fire and aviation management, said the wildland fire potential for 2016 was similar to that of other years.
"The 2016 fire season prediction for the country has been pegged at a normal, significant fire potential," Christensen said. "There are two areas that are pointing to above average fire potential out West, including the Great Basin in Nevada and areas throughout Southern California."
In previous years, requests for MAFFS support has increased. The average fire season, according to California Department of Forestry and Fire Protection, has increased by 64 to 72 days.
During an activation to support wildland fire suppression, MAFFS units can drop up to 3,000 gallons of retardant per run on wildfires. Retardant is dropped ahead of a fire in an effort to slow its spread, giving ground crews a critical edge in gaining the upper hand on the blaze. The retardant's bright red color also helps aircrews determine the accuracy of their drops.
MAFFS is a partnership between federal land management agencies and the Air Force to provide supplemental air tankers to assist in fire suppression efforts nationwide during times of high fire activity. The system itself is a portable fire retardant delivery system that can be easily inserted into a C-130, converting the vessel into an air tanker when civilian fleets have been fully committed.
The Air Force's MAFFS aerial firefighting fleet is supported by the Reserve's 302nd AW, based in Colorado Springs, Colorado; the ANG's 153rd AW, located in Cheyenne, Wyoming; the 146th AW, based at Channel Islands ANGS; and the 145th AW in Charlotte, North Carolina. Recently, the National Guard Bureau selected the 152nd AW with the Nevada ANG in Reno to replace the 145th AW as the North Carolina-based unit begins its transition to the C-17 Globemaster III.