By Staff Sgt. Alex Fox Echols III, 325th Fighter Wing Public Affairs / Published December 19, 2016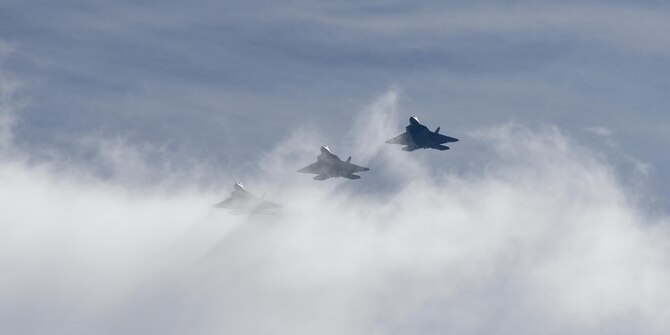 1 of 3
DOWNLOAD HI-RES /  PHOTO DETAILS
Three F-22 Raptors from Tyndall Air Force Base, Fla., fly in formation during Checkered Flag 17-1, Dec. 8, 2016. The integration training pilots receive during exercises like Checkered Flag ensure they can seamlessly work together in a real-world combat situation. (U.S. Air Force photo/Staff Sgt. Alex Fox Echols III)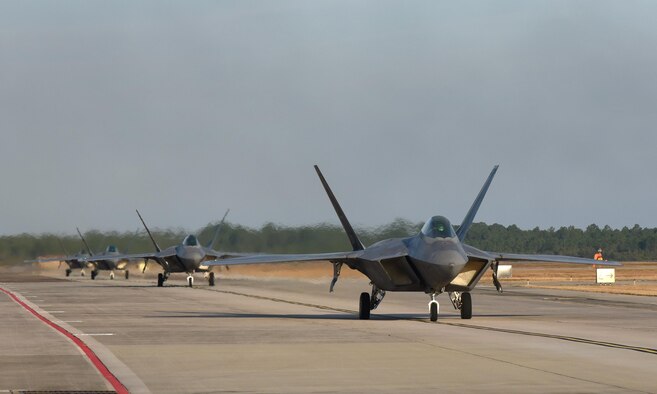 2 of 3
DOWNLOAD HI-RES /  PHOTO DETAILS
F-22 Raptors taxi down the flightline on Tyndall Air Force Base, Fla., during Checkered Flag 17-1, Dec. 8, 2016. During the exercise, Tyndall's F-22s were joined by F-35A Lightning IIs, F-15E Strike Eagles, F-16 Fighting Falcons, HH-60G Pave Hawks and an E-3 Sentry (AWACS) to ensure seamless integration in a simulated deployed location. (U.S. Air Force photo/Staff Sgt. Alex Fox Echols III)
3 of 3
DOWNLOAD HI-RES /  PHOTO DETAILS
An F-22 Raptor pilot taxis down the flightline on Tyndall Air Force Base, Fla., during Checkered Flag 17-1, Dec. 8, 2016. During the exercise, pilots and Airmen from Tyndall AFB worked with members from Shaw AFB, S.C.; Mountain Home AFB, Idaho; Moody AFB, Ga.; Eglin AFB, Fla.; and Tinker AFB, Okla., as well as the Florida and Louisiana Air National Guard. (U.S. Air Force photo/Staff Sgt. Alex Fox Echols III)
TYNDALL AIR FORCE BASE, Fla. (AFNS) — At Checkered Flag 17-1, legacy and fifth-generation fighter jet integration created aggressive and advanced training opportunities; but another integration happened just below the surface, which ensured multiple Air Force components received the same vital learning opportunities.
Active-duty, Air Force Reserve and Air National Guard Airmen from around the country worked together through total force integration at Checkered Flag from Dec. 5-16. They prepared to rapidly respond to any current, real-world conflict, and trained for the future of air dominance.
"The Air Force Reserve and the Air National Guard components bring the same capabilities to Checkered Flag that they do to the entire Air Force each and every day," said Col. Randy Cason, the 44th Fighter Group commander and Checkered Flag 17-1 Air Expeditionary Wing commander. "They bring experience, continuity, and a high degree of technical and tactical expertise."During the exercise, numerous pilots and Tyndall's maintenance team – which about 25 percent are reservists — brought their knowledge, experience and proficiency to the fight.
"A lot of times these Airmen don't even know whether someone working around them is a reservist or active duty. We are all just in the fight together," said Capt. Matthew Goldey, the 44th Fighter Group maintenance operations officer and Checkered Flag 17-1 Air Expeditionary Maintenance Group commander. "We are all one team."
With budgetary restraints being an ever-present Air Force concern, total force integration ensures that U.S. airpower is not diminished while being fiscally mindful.
"Total force integration is an existential requirement for the Air Force while in constrained budgetary environments," Cason said. "We have a lot to do, but we also must be good stewards of the U.S. taxpayer's money. (This strategy) allows us to ensure mission success at a reduced cost."
Day-to-day operations and large-scale exercises like Checkered Flag ensure all components of the Air Force are ready for the fight.
"The Air Force benefits from everyone being capable of accomplishing the mission," Cason said. "Reserve and Guard members being able to participate with the active-duty Air Force members means that we are all trained to the same standard, equally capable, performing the same mission and able to integrate and operate as a team."